Enflex at Interpack 2023: Industrial Automation for a Sustainable Future
ENFLEX, a Volpak brand, will participate at Interpack 2023 (Coesia's Booth - Hall 6 Booth D31-D57) and present its latest solutions focused on automation and sustainability, fundamental pillars of the GREENMATION Coesia's manifesto for this show.
GREENMATION, industrial automation for a sustainable future
At Interpack 2023 Coesia presents GREENMATION, Coesia's response to the current trend prompted by the consumer demands towards reusable and recyclable packaging solutions, while manufacturers face labor shortages and production cost increases. "In this complex situation, Coesia believes that the answer to this profitability-threatening challenge lies in supporting a revolution in production which is capable of combining the principles of automation and sustainability in the industries of Food & Beverage, Pharma & Personal Care, and Cross Industry Automation," says Alessandro Parimbelli, Coesia Chief Executive Officer.
The Coesia booth will be structured into three areas (Food & Beverage, Pharma & Personal Care, and Cross Industry Automation) where technicians and experts will present the latest solutions presented by the Group: ACMA, Atlantic Zeiser, CITUS KALIX, EMMECI, FlexLink, G.D, GF, HAPA, NORDEN, R.A Jones, and VOLPAK.
ENFLEX at Interpack - Automated packaging line for the Pharma Industry:
The Volpak brand focused on Healthcare and Pharma packaging machines, will showcase an integrated line aimed at the pharmaceutical market and integrates a Hapa hybrid inline printer with an ENFLEX PH-11 sachet machine, equipped with a new powder dosing system that meets GMP requirements. The line is designed to streamline logistics and eliminate the uncertainties tied to the pre-printed foil reel supply chain while maintaining full compliance with pharmaceutical standards.
Discover the new PHS Series: Stick-pack machines for pharma and OTC
Enflex's new PHS series is part of a major portfolio upgrade to meet the needs of the pharmaceutical market. The PHS series includes stick-pack machinery with a superior production performance (depending on its configuration, it can reach 1800 stick-packs per minute), it also meets sustainability needs, with a reduction of 42% in wrapping material usage compared to units that are currently on the market. We'll be showcasing a PHS-65 model.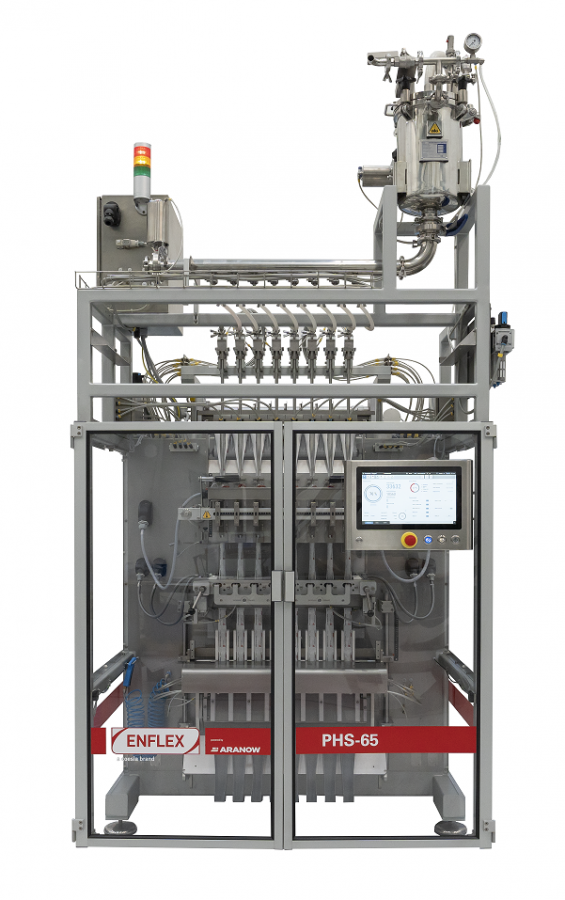 Visit us at Interpack 2023, Messe Düsseldorf, from May 4th to 10th, 2023. Coesia booth: Hall 6, booth D31-E57